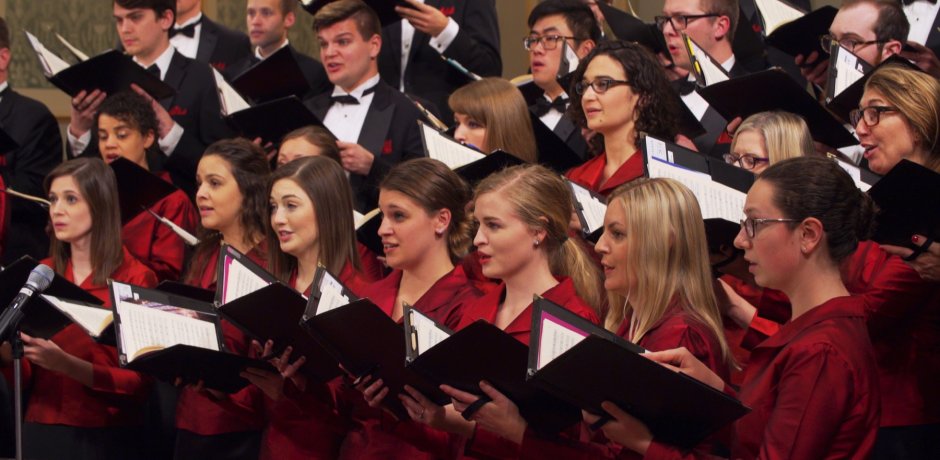 Artistic Director Search
Artistic Director Position Overview

Magnum Chorum seeks a new Artistic Director to lead the choir beginning with the 2018-2019 Concert Season. This is a part-time position.
About the Choir
Recognized for expressive singing and inspired programs, Magnum Chorum brings artistry and spirit to a cappella choral music. The 60+ voice choir presents colorful concerts, commissions and premieres new sacred works, provides music for worship and outreach, and preserves choral music through high quality recordings. Founded in 1991 in the choral tradition of St. Olaf College, the choir auditions singers of all backgrounds who are devoted to musical excellence in sacred choral music, and who embrace the strong sense of community and service in our organization. Magnum Chorum currently serves as Choir in Residence at Westwood Lutheran Church in St. Louis Park, MN. Magnum Chorum's typical season includes four concert cycles, 4-6 local worship services and outreach concerts.
Magnum Chorum has been led by Artistic Directors Jin Kim (Founding Director), David Dickau, Christopher Aspaas, and Mark Stover. The choir has performed under the direction of guest conductors Anton Armstrong, Kenneth Jennings, Sigrid Johnson, Craig Arnold, Allen Hightower, Dale Warland, Weston Noble, and René Clausen; performed with Philip Brunelle, Craig Hella Johnson, and Osmo Vänskä; and collaborated with many composers including Stephen Paulus, Frank Ferko, Libby Larsen, Kenneth Jennings, Ralph Johnson and Jake Runestad.
Magnum Chorum has championed young composers through its composer-in-residence program, including Stanford Scriven, Benjamin Simmons, Scott Senko, and Zach Westermeyer, and recently premiered Sermon on the Mount by award-winning composer Paul John Rudoi.
The ensemble has been featured at regional and national conferences of the American Choral Directors Association, Chorus America, American Guild of Organists, American Hymn Society and College Music Society. The choir's recordings are broadcast in the U.S. and Canada on public radio and classical music stations. Our name, Magnum Chorum, is intended to convey the importance of the choir in expressing the divine and the infinite through voice, music, and text.
"Magnum Chorum produced a mature, burnished sound, fuller than some ensembles twice its size." —William Randall Beard, Star Tribune
"So thoroughly enjoyed the concert! I'm now convinced when Magnum Chorum sings, the angels rest, and let you take over for a while." —Laura M.
Our Core Values
Four core values inform the way we make decisions, operate, collaborate and treat one another: (1) musical excellence, (2) sacred music and faith, (3) fellowship and (4) stewardship.
(1) Rooted in the St. Olaf College choral tradition, musical excellence means we strive for the highest and most compelling musical performance of the pieces we sing, as the music, its message, and our listeners deserve our concerted effort. While technical mastery is important, it is just as important that we capture the essence and spirit of each piece, and convey the meaning of the text, in order to offer truly transforming experiences for our listeners. (2) Sacred music and faith mean our concerts are intended to be more than just performances, but an opportunity to engage with and be moved by the higher message in the music and texts, whatever this offers to each listener. Many singers choose membership in Magnum Chorum because of our dedication to deeply inspired music and texts, and our participation in worship services. (3) Fellowship is about caring for one another and singing together as one voice, unified in our purpose, and being valued as part of a family. We build social time into our rehearsals and season to strengthen our bonds and deepen connections. (4) Stewardship is about carefully nurturing our financial and human resources including our gifted cadre of singers, faithful audience members, longtime volunteers and our donors, and treating our collaborators and vendors with great care.
The Ideal Candidate
Magnum Chorum is seeking a creative and collaborative professional who understands and relates to the choir's roots and unique history, is comfortable serving on a collaborative staff team, and builds upon strengths to lead the organization into its next phase of growth. The Artistic Director must communicate effectively and articulate a compelling vision for the choir and translate that vision into original and innovative programs and larger organizational goals. The Artistic Director will drive musical and artistic decisions and performances, and collaborate with the choir's staff to plan, market and promote performances among our growing audience and wider arts community in the Twin Cities, Midwest and nationally.
The Artistic Director must share the core values of the choir and bring a natural ability to invoke elements of faith, and explore the meaning of song texts, that resonate with singers and audience. The Artistic Director will recognize that our singers are lifelong learners who wish to continue learning about the art and science of singing, vocal technique, intonation, tone production, diction and vowels. The Artistic Director will prepare for weekly rehearsals and bring a positive, energetic, consistent, collaborative, and genuine spirit to rehearsals and concerts.
Responsibilities of the Artistic Director
Develop the artistic vision of the choir in collaboration with the board and staff
Create compelling original and innovative programs for the choir while building on our tradition
Select, prepare, rehearse and perform the musical repertoire of performances
Actively develop new performance, collaborative and recording opportunities
Recruit and audition singers
Build positive relationships with singers, staff, audience members, donors and board members
Establish and uphold a standard of regular attendance and professionalism for singers
Set expectations for singers' outside rehearsal practice time based on repertoire
Actively and collaboratively participate in regular staff meetings and board meetings
Contribute to building concert attendance and revenue
Assist staff in developing relationships with donors to increase charitable gift revenue
Promote Magnum Chorum in the Twin Cities, Midwest and nationally through collegial relationships with choral and music organizations, ensembles, musicians, conductors, composers, choral associations, colleges and church congregations
Expertise and Qualifications
Excellent musicianship as expressed through innate musicality, excellent aural acuity, thorough score preparation, and effective conducting gesture
A solid understanding of vocal production, vocal pedagogy and rehearsal techniques
Wide knowledge of sacred choral repertoire appropriate for accomplished adult choirs
Experience in developing a full concert season of engaging, distinct, original and innovative programs around various themes
Excellent relationship and communication skills in drawing the best out of classically trained volunteer singers
Ability to engage with audiences in a genuine and appealing way
Bachelor's degree; advanced study in choral conducting preferred
5+ years' experience directing a college, community, or church choral ensemble
Keyboard proficiency is desirable although not required
Application process
Application must be submitted by Wednesday, January 31, 2018. Application must include:
Cover letter;
Curriculum vitae;
Three letters of reference with full title, email address and phone number
Sample video or digital sound recording from a recent rehearsal (10 minutes max)
Sample video or digital sound recording from a recent performance (10 minutes max)
Three or four concert programs from recent concerts
Selected candidates will be invited to interview with the search committee in February 2018.
Final candidates will be invited to audition with the choir in March or April 2018. Final selection will be made in May 2018. For more information about Magnum Chorum, please visit: www.magnumchorum.org.
Please send application by January 31, 2018 electronically to directorsearch@magnumchorum.org or via USPS (postmarked no later than January 31, 2018):
Director Search
Magnum Chorum
PO Box 16600
Minneapolis, MN 55416